Cerakote vs. Anodizing
Cerakote doesn't affect fatigue properties of aluminum alloys
Due to chemicals used in the process, anodizing offers a very limited color selection while Cerakote offers over 200 unique colors. Unlike anodizing that is known for its drastic color inconsistencies, Cerakote colors are held to a consistency standard of a Delta E of 1 or less. Cerakote does NOT detrimentally impact the fatigue properties of aluminum alloys while anodizing creates a brittle and porous oxide layer and tensile residual stress. Environmentally, Cerakote does not contain any heavy metals and is VOC exempt in all 50 US states. Some anodizing processes release hexavalent chromium, which is a powerful carcinogen, into the environment.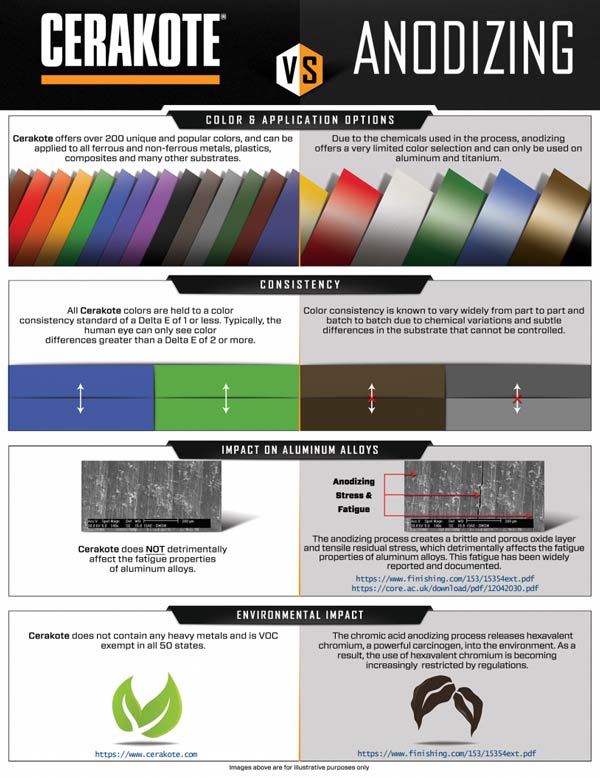 Cerakote vs. PVD
330 Times the Corrosion Protection
In a salt chamber test to simulate corrosion over time, Cerakote Elite outperformed PVD with 330 times the corrosion protection. These results also exceed military standards by over 40 times. Cerakote is a superior performance finish to PVD, at a lower price point and made in the USA.
Cerakote vs. Blueing
Tested in The Elements
To show how Cerakote stacks up to traditional blueing we set up a 15 month time-lapse in the woods of the Pacific Northwest. Using two identical bolt-action rifles as our test subject, there was one clear winner: Cerakote.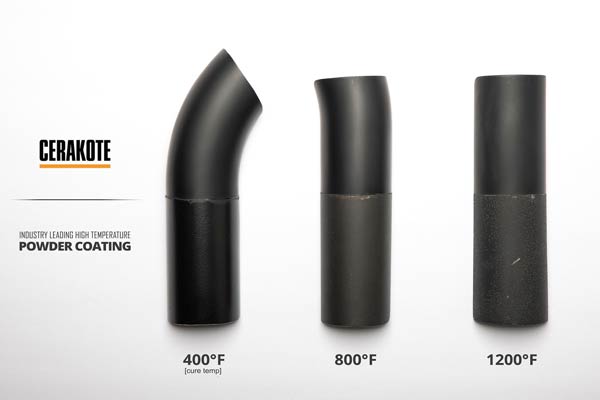 Cerakote vs. High-Temp Powder
The Cerakote Advantage
When seeking performance, looks and temperature stability, there is only one coating that stands on the podium for all three at once. Cerakote's high-temperature coatings are the ultimate solution for parts such as exhausts, headers, turbos and manifolds.
Cerakote vs. Salt Chamber
The Ultimate Corrosion Test
We put Cerakote, as well as other leading finishes, up against the Salt Chamber for the ultimate corrosion test. How long will these finishes last? Watch what happens and find out who Finishes Strong.
Cerakote vs. Nitride
The Corrosion Resistance King
In a head-to-head test, Cerakote was put up against Nitride in a salt chamber to see which would be the most corrosion-resistant. Each barrel was placed in the salt chamber and after just 8 hours the Nitride finish barrel began to show signs of corrosion. As the test went on, it took a whopping 1,206 hours to show any signs of corrosion.
Skriv en rad så pratar vi
Hör av dig om du är intresserad av hur vi kan hjälpa dig med Cerakote ytbehandling.